Hello again guys,
I have returned, Disco went on a journey I walked the earth like Jules planned to do in pulp fiction. But as we all know Jules was a massive noob.
Downloading planes as we speak!
So what did I do apart from working "cough cough" 
I played Call of duty modern warfare and felt nauseated by the purple and yellow M16s and ak47s also for a 1st person shooter, they designed the maps all wrong, so the game became static and people just camped behind a door with a shotgun..not the most sophisticated game play.10 days in i requested a refund as the game is chod
Resident Evil 2 remake however is fantastic blowing the heads off zombies never gets dull. However like a story I completed it twice and get bored, but i would highly recommend this game. 101% recommended
I then played Destiny 2 for a few months until I realised it stinks like a homeless person slept in your car. Although it has great PvE game play, and i mean really good. its plagued by hackers in PvP mode they have little to no practical anti cheat software. 
The final straw was when they said they would delete weapons from previous seasons with the exception of high tiered players weapons and armour collected from dungeons which is only achievable for teams of 6 clan guys who are essentially pro's.
I re visited tanks and then remembered why I left I'm still trying to wash away the filth, but like a red wine stain on a shag pile carpet its proving almost impossible to remove. Too many things wrong with that game to even list. Also it has an unpleasant atmosphere i always came away grumpy and stressed after playing.
I then tried warships and never have i encountered such a poorly balanced game it quite possible to lose 15 games in a row on a regularly basis. again this is a game that seems to cater more for the pro players buy giving advantages to those who own multiple tier 10's. Also if I'm honest its just not for me I find the pace too slow.
I dunno if its an age thing but the 90% of games out there seem utterly unappealing, nearly every game out there seems to be a rehash of the same old , same old, open world blah, infinite blah, gameplay blah, just blahmeh
it seem nearly all modern games either they are aimed at youths with shiney coloured flashy things or cater to an elite set of addicts who will use Pay to win techniques or horrible pay/grindwalls.
Therfore after much search and Disco is back and I'm mad as hell,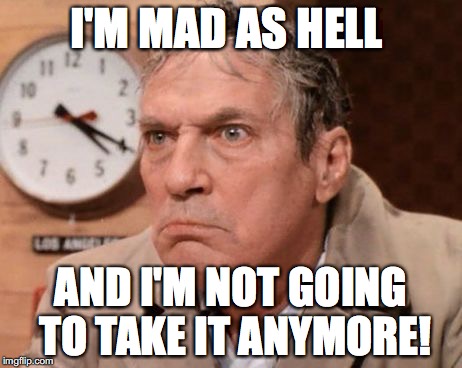 not really i just saw Network again
And here's a bit of Disco, from Disco,
Looking forward to meeting you all again in the friendly skies!
Edited by Discontinued, 16 May 2020 - 11:55 AM.